Vežiojamos kabelinės ritės
Carrier series cable reels
Vežiojamas kabelines rites galima naudoti tiek telefoninio,kompiuterinio ar šviesolaidini kabelio susukimui.Dažniausiai jose susukama nuo 500metrų iki 2000m kabelio,priklausomai nuo kabelio tipo ir diametro.Pagrinde jos gaminamos iš metalo.
1.1000m taktinio šviesolaidinio kabelio vežiojama ritė VKR-1000.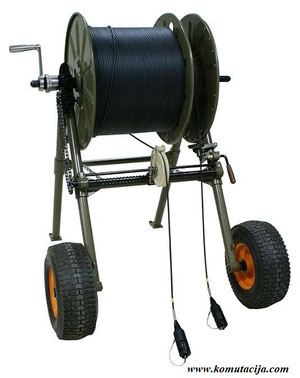 Vežiojama kabelinė ritė VKR-1000 susideda iš:
1.Kabelinės ritės F-1000
  -Išorinis diametras-500mm;
  -Būgno diametras -220mm;
  -Bendras ritės ilgis-450mm;
  -Papildomos dalies ilgis-100mm;
  -Svoris-12kg.
  -Talpa-1000m 5,2mm diametro kabelio.
2.Ritės rėmo FIF-1000:
  -Ilgis-830mm;
  -Plotis-1100mm;
  -Aukštis-930mm;
  -Svoris-21kg.
Dėka papildomos sekcijos ant būgno galimas visiškas
ar dalinis kabelio naudojimas,t.y.visuomet yra galimybė prisijungti prie abiejų galų,nepriklausomai nuo kabelio išvyniojimo.
Product Description
Particularly designed for the quick and iterative distributing and retrieving under the circumstances of military field and harsh environment, nonmetal cable is light, portable, bendable, oil-resistant, rubbing-resistant, flame retardant, with high tensile, high crush resistance and wide operating temperature. It can be used under the following situations: Quick deployment and iterative distributing-retrieving of military field communication system; Cable deployment of radar, aviation and naval vessel; Complicated circumstances of oil field, mining, harbors, TV re-broadcasting, communication emergency repairing.  
Cable Features  
1. With 0.9mm tight buffer fiber inside, it adopts compact all dielectric distribution configuration, which provides the optical fiber with extremely high strength and makes the cable deploying or iterative distributing-retrieving faster.  
2. High intensity optical fiber coating with compound structure guarantees cable's stability and durability under complex situations by offering best temperature and minimal attenuation.  
3. Composed of high-intensified and flexible FRP, central strengthen member ensures the intensity and bending features of optical cable.  
4. A large scope aramid yarn ensures optical fiber with extremely high mechanical intensity  
5. SZ stranded technology strengthens cable, and marking it with high mechanical and transmission performance.  
6. Flame retardant PU, plolyester elastomer guarantees structure stability and features of crush-resistant, rubbing-resistant, oil-resistant and flame retardant.  
7. RoHS compliant.  
This cable kit includes a set length of cable, special connectors, FC connectors and a special design reel for fast distributing and retrieving.  Kits Features  
1. All dielectric high mechanical performance and wide operation temperature range cable.  
2. Standard neutral click lock connector, water resistant and dust protecting.  
3. Neutral connectors that can direct connect between socket and flanging socket, socket and socket, flanging socket and flanging socket.  
4. The orientation pin design ensures fast blind connection, and the precision ferrule makes the interchangeable and repeatable connection better performance. 5. Special design reel with automatic cable arranger for fast, easy distribution and retrieving.  
Applications  
1. Military field communication system.  
2. Live TV broadcasting, oil field, harbors communication.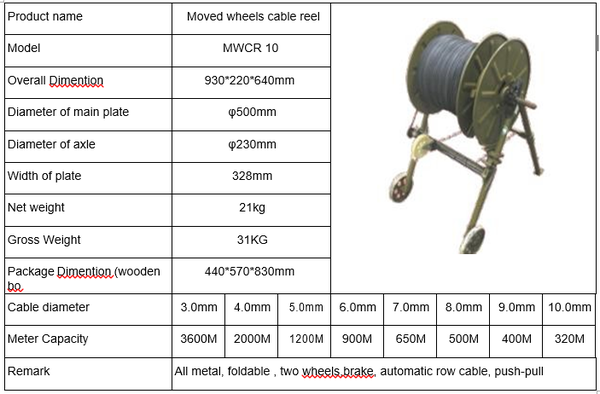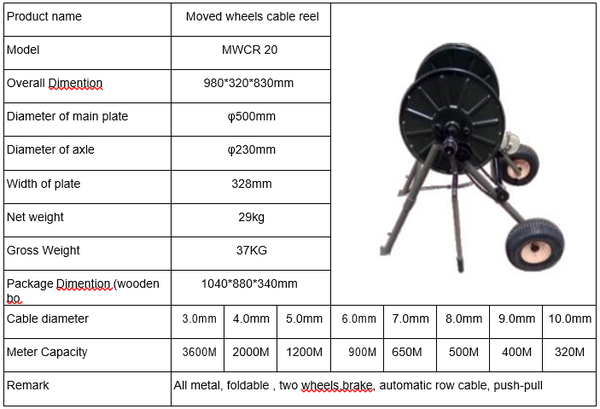 2.2000m taktinio šviesolaidinio kabelio vežiojama ritė.