OPTINIŲ MODŲ KEITIKLIAI
Optinių modų keitiklis AM turi du optinius portus.Jis naudojamas optinio tinklo ,suinstaliuoto daugiamodėmis medžiagomis (MM), sujungimui su optiniu tinklu,suinstaliuotu vienamodėmis medžiagomis (SM).Be to keitiklis  dar ir sustiprina signalą.

1.ATOP Technology Co., Ltd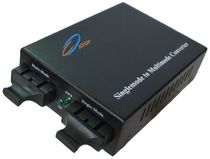 Savybės:
  -Perdavimo būdas "duplex"-dviem šviesolaidžio skaidulomis;
  -Turi dvi versijas,priklausomai nuo duomenų perdavimo greičio;
  -Du optiniai portai:A-Daugamodis,B-Vienamodis;
  -Atskiri portai gali dirbti su skirtingo ilgio bangomis,atitinkančias skirtingas optines modas,t.y.keitiklis gali dirbti kaip bangos ilgio perjungėjas.
Priekinėje panelės dalyje kiekvienas portas turi šviesos diodus kiekvieno porto darbo indikacijai.
Techniniai parametrai:
Duomenų perdavimo greitis

10/100Mb/s
1000Mb/s

AM100
AM1000

Perdavimo būdas

full / half duplex

Atomatinis suderinamumas

Šviesolaidžio tipas

9/125μm
50/125 lub 60.2/125μm

Vienamodis (SM)
Daugiamodis (MM)

Bangos ilgis

1310nm lub 1550nm
850nm lub 1310nm

Vienamodžio (SM)
Daugiamodžio (MM)

Maksimalus atstumas

do 2km
do 100km

Daugiamodžio
Vienamodžio

Darbo temperatūra

0ºC do 70ºC

 

Drėgmė

5% do 90%,

 

Maitinimas

5V DC 1A

Keitiklis  iš 230V AC

Gabaritai

30x112x141mm

Išorinis maitinimo šaltinis

Jungtis

SC duplex

port A  ir  B
Galimi modeliai:
Moda

Greitis

Atstumas

Bangos ilgis

AM100-25

MM/SM

10/100Mb/s

2/25km

1310nm

AM100-40

2/40km

AM100-60

2/60km

AM100-100

2/100km

AM1000-10

MM/SM

1000Mb/s

500m/10km

850nm/1310nm

AM1000-20

500m/20km

AM1000-40

500m/40km

AM1000-100

500m/100km

850nm/1550nm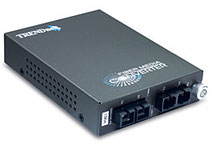 Savybės:
 -Keitiklis SC-type Multi-mode į single-mode ;
 -Veikia kaip atskiras keitiklis;
 -Suderinamas su TFC-1600  optinių keitiklių šasi atstumams iki 15km;
  -Turi 2 x 100Base-FX (SC-Type) portus.Tinklas 100Base-FX Multi-Mode to 100Base-FX Single Mode media.
Hardware
Standard
IEEE802.3u 100Base-FX
Supported Frame Size
Standard Ethernet up to 1522byte
Network Media
100Base-FX : Multi-mode fiber optic cable 50/125 µm or 62.5/125 µm, up to 2km 100Base-FX : Single-mode fiber optic cable 9/125 µm or 10/125 µm, up to 15km
Protocol
CSMA/CD
Ports
100Mbps (half-duplex)
200Mbps (full-duplex)
Transfer Rate
100Base-TX : 200Mbps (Full Duplex)
Diagnostic LED

Per unit: Power
Per Port : link/activity, full-duplex/collision, speed (on fiber port)

Power Adapter
7.5V DC, 1A external power adapter
Power Consumption
1.8 Watts (max)
Dimensions
120 x 88 x 25mm (4.7 x 3.46 x 0.98 in.)
Weight
354g (12.5oz)
Temperature

Operating : 0° ~ 40° C (32° ~ 104° F)
Storage : -25° ~ 70° C (-13° ~ 158° F)

Humidity
Max. 90% (non-condensing)
Certification
FCC,CE
| | | | | | | |
| --- | --- | --- | --- | --- | --- | --- |
| Model Name | Media | Wavelength | Pout (dBm) | Sensitivity | Power | Distance |
| TFC-15MS100 | MMF | 1300nm | -23.5 ~ -14 | -31 ~ 0 | 7.5 | 2km |
| TFC-15MS100 | SMF | 1310nm | -20 ~ 0 | -32 ~ 0 | 12 | 15km |

3.155M/1.25G/10G SM-MM Fiber Optic Media Converter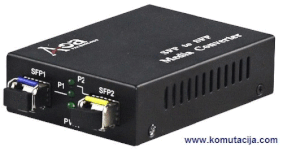 MODEL: AOM-X020-F
DESCRIPTION :
* Support 155M,1.25G SFP and 10G SFP+ Transceivers. 
* Fulfill the conversion of single mode or multi mode 
Overwiew
AOM-SFP-SFP series SFP to SFP converters support 155M,1.25G SFP and 10G SFP+ Transceivers. It can not only fulfill the conversion of single mode or multi mode at 1310nm wavelength, but also that of 850nm/1310nm and 1550nm wavelengths, which functions as a relay and then makes multi-mode or single mode fibers transmit farther. It supports transmission in multi-mode dual fiber, single mode dual fiber and single mode single fiber.
Features:
  -Supporting 155M,1.25G SFP and 10G SFP+ Transceivers, Hot-plug;
  -Supporting full-duplex and half-duplex and its auto-sensed;
  -Supporting direct and transparent transmission of packets at different lengths;
  -Supporting the transmission of extra-long VLAN packets;
  -Supporting Quality of Service (QoS) and ensuring the transmission of VoIP packets;
  -Supporting STP to form a redundant network;
  -Low power consumption, low heat, reliable and stable performance, and long lifetime;
  -Options in single mode in dual fiber, multi-mode in dual fiber, and single mode in single fiber.
Parameter
Parameter
Specifications
Port
SFP Slot
LED indicator
PWR (power supply)
P1 (SFP1)
P2 (SFP2)
Power supply
DC5V 1A
Power consumption
3.5W
Operating temperature
-10~55ºC
Operating humidity
5%~90%
Maintaining temperature
-40~70ºC
Maintaining humidity
5% ~ 90% non-condensing
Dimensions

External: 94mmx71mm*26mm
Producer:AOA Technology Co. Ltd