Naudingos nuorodos
============================================================

We recognize that this is a busy time of year, so we want to provide more time to work on your 2017 Fiber Connect presentation proposal! Last call: all presentations are due by Friday, January 20.

Don't miss this opportunity to share your deployment success story and showcase your best practices to an audience of your peers – submit your presentation today!

DON'T FORGET: If you don't wish to lead a breakout session, but still want to be involved in the event, click here to fill out a short questionnaire on becoming a session panelist or an Ignite Talk speaker.

 
 
 
 
============================================================
============================================================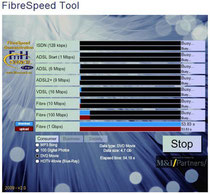 5.Jeigu JŪS norite sulyginti įvairius interneto (duomenų perdavimo) planus pradedant ISDN (128kbps) ir baigiant optiniu (ryšiu 100-1000Mbps),tai FTTH Council Europe savo puslapyje siūlo grafinį sulyginimą perduodant tinklu įvairaus dydžio duomenų kiekį:
 -MP3 dainą (4Mb.);
 -100 Skaitmeninių nuotraukų (170Mb.);
 -DVD filmą (4,7Mb.);
 -Aukštos raiškos filmą (HDTV)  (25Gb.).
Norite išbandyti-spauskite ant paveiksliuko.
============================================================
=============================================================
Pagrindines 10 darbo saugos taisyklių,darbui su šviesolaidžiais,rasite ČIA:

============================================================
Avago 100G CFP2 SR10 Optical Transceiver Module Demonstration.
The Avago 100G CFP2 SR10 optical transceiver, the AFBR-8420Z, is a 10-channel pluggable, multi-mode parallel optic transceiver module designed to maximize the delivery of 10G data channels for modern 100G networks at significantly lower costs than existing industry solutions. The device supports 100Gbps SR10 and 10x10Gbps Ethernet interconnects. In addition, the device is interoperates with 40G SR4 and Avago 10G SR optical solutions.

New Demonstration Video: Now you can achieve error-free 100G CFP2 SR10 high speed communications over 150ft of OM4 optical cable. Avago offers the new AFBR-842OZ, 10-channel pluggable, multi-mode parallel optic transceiver module as significantly lower cost solution for these applications. The AFBR-842OZ provides industry leading, extremely reliable high-density 100G Ethernet and Optical Transport Network (OTN) communications. 
This video demonstrates the AFBR-842OZ module in a test application; to illustrate the error free performance of this new high speed, high density communications interface.

The FTTH Conference & Expo is now 

FTTH Connect

 
 
 

The Most Important FTTH Event of 2015 Is Only 6 Days Away

Register online, or register onsite in Anaheim

FTTH connectivity is all about speed. Your customers rely on lightning-fast networks that only you can bring them, and the demand for these networks is growing faster than ever before!

Register now and join us in Anaheim next week for the 2015 FTTH Connect. Quickly get up to speed on the latest strategies and tools to help make your FTTH implementations faster and more profitable. We're bringing innovative deployment strategies and next-generation technology under one roof so you'll get the most of your investment!

Do you need more information before making a decision? Visit our website to learn about the best-in-class education awaiting you in Anaheim, as well as the 100+ companies exhibiting in our Expo Hall.

If you're nearby, and will join us last-minute, we're glad to have you. Online and onsite registration will both be available throughout the conference –register online before you drive over, or visit the registration desk once you arrive!

If your schedule only allows for a few hours with us, consider signing up for our Tuesday Expo/Keynote Package. This package grants you access to our three keynote sessions and all Expo Hall hours on Tuesday, June 30. Join us from 8:30 am – 10:30 am for back-to-back sessions with:

Jon Taplin, Director, USC Annenberg Innovation Lab
Gigi Sohn, Counselor to FCC Chairman Thomas Wheeler
Michael Slinger, Director, Business Operations, Google Fiber

Then, you'll have two opportunities to meet with our exhibitors – during thelunch in the Expo Hall from 11:30 am – 1:30 pm, and during our eveningreception from 3:30 pm – 7:30 pm.

Enter discount code KEYNOTE15 when you register to receive this specially-priced package.


 
 
 
 

| | | | | |
| --- | --- | --- | --- | --- |
| | | | | |
| The 2015 FTTH Connect is less than a week away! Register today and be part of this year's conference experience. |   | |   | Become a member of the FTTH Council Americas and receive additional savings on your conference registration! |

 
 
 
 
New Options to Deliver Fiber in the Last Mile
Monday April 24th, 3 pm EDT
Monday April 24th, 3 pm EDT
Speakers:
Michael Slovin, Vice President Sales, XFINITY Communities

Robert Howald, Vice President Network Architecture, Comcast

Tom Cloonan, Chief Technology Officer, Network Solutions, ARRIS

Adrian Adriano, Vice President Strategic Initiatives, XFINITY Communities
Delivering integrated technologies to support internet, entertainment, voice/telephone and home security needs on a national scope and scale both today and in the future, requires consistency, commitment, and a demonstrated leadership in both standards adoption and execution. 
Building on years of expertise in core, regional, access, and distribution networks, XFINITY Communities was proud to introduce their Advanced Communities Network in 2015. Regardless of the type of property served, new or existing, Comcast  has a solution to fit the need. XFINITY Communities  can deliver a solution for a variety of property needs, Fiber-To-The-Building (FTTB) for brownfield and new Fiber-To-The-Unit (FTTU) for greenfield. Each community will benefit from our dedication of a better network, better entertainment, and better service elements for all residents. 
We welcome the opportunity to explain how to maximize your investments, deliver value, and make your user experience an amenity second to none.