Nešiojamos ant nugaros kabelinės ritės
Nešiojamas ant nugaros kabelines rites galima naudoti tiek telefoninio,kompiuterinio ar šviesolaidini kabelio susukimui.Dažniausiai jose telpa nuo 50metrų iki 500m kabelio,priklausomai nuo kabelio tipo ir diametro.Pagrinde jos gaminamos iš metalo.
1.Kabelinė ritė nešiojama ant nugaros ZN KRN-1 MIL.ZN Kodas 581409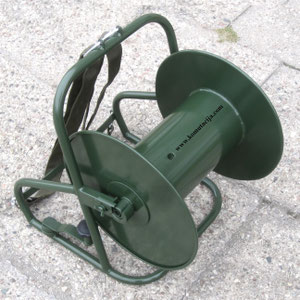 Kabelinė ritė nešiojama ant nugaros pagaminta iš metalo ir pritaikyta nešti ant nugaros medžiaginių diržų pagalba.Konstrukcijos privalumas yra tas,kad ritės būgnas yra keičiamas ir,turint vieną rėmą galima,papildomai įsigyti keletą ritės būgnų.Tokiu atveju galima susivynioti papildomą kiekį ryšių kabelio,vielos,virvės ar šviesolaidžio.
Specifikacija:
1.Ritės būgno diametras-150mm.
2.Ritės būgno ilgis-300mm.
3.Ritės šoninių diskų diametras-340mm.
4.Bandri gabaritai-510x390x535mm
5.Karkasas pagamintas iš 20mm metalinio vamzdžio.
6.Turi du medžiaginius reguliojamo ilgio diržus,skirtus ritės nešimui ant nugaros.
7.Turi nuimamą rankeną nuo vieno ritės šono,kuri skirta kabelio suvyniojimui.
8.Transportavimo metu sukimo rankena yra pritvirtinama ant ritės karkaso tam tikslui pritvirtinto laikiklio.
9.Nuo ritės vidinės būgno dalies į vieno ritės šono išorę yra išvestas 10mm vamzdelis,skirtas ryšio kabelio pradžiai išvesti į ritės išorę jo kontrolei.
10.Prie kitos ritės būgno dalies yra privirintas įdubęs šiašiakampis M10,skirtas kabelio suvyniojimui akumuliatorinio suktuko pagalba.Kas labai paspartina darbą.
11.Konstrukcija nudažyta milteliniu būdu tamsiai žalia RAL 6020 spalva.
Pastaba:Užsakant 5 ar daugiau vienetų galimos modifikacijos pagal užsakovo poreikius.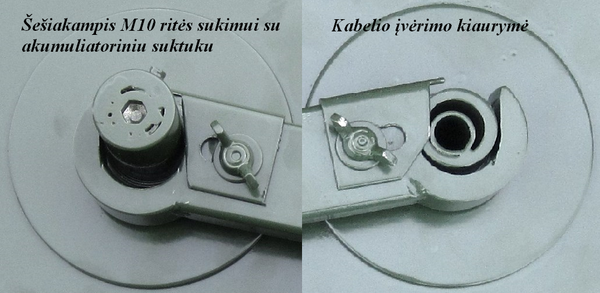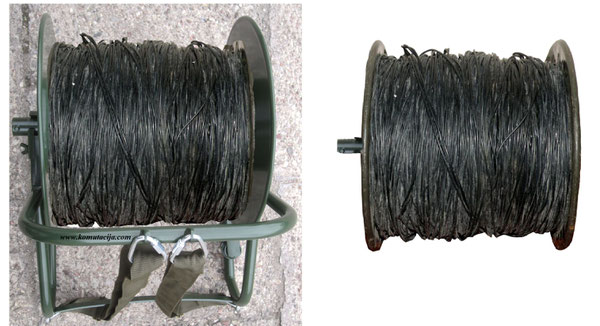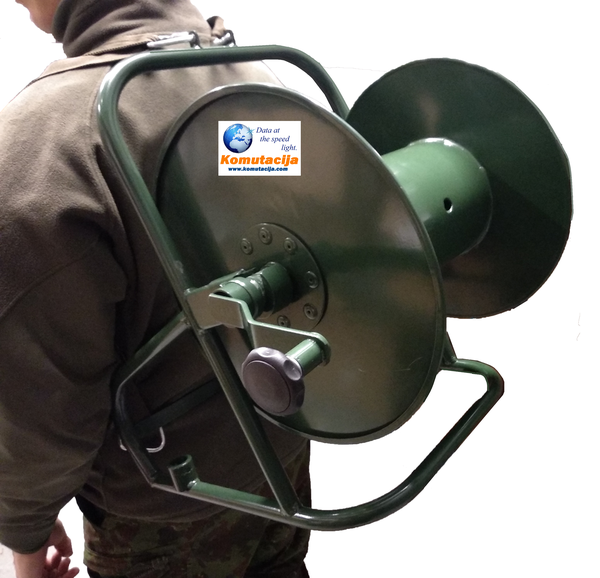 Kabelinė ritė nešiojama ant nugaros ZN KRN-1 MIL.Aprašymas
Kabeline rite nesiojama ant nugaros ZN
Adobe Acrobat Document
181.1 KB
2.Kabelinė ritė nešiojama ant nugaros RBD-500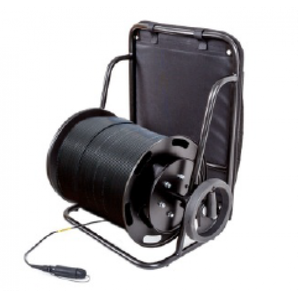 Nešiojama kabelinė ritė su diržais nešimui ant pečių.Tinka naudoti lauko sąlygomis.
Svoris su HMA jungtimis 200 m kabelio yra 15 kg.
Ritės būgnas būna dviejų variantų:
-200 m.taktinio 5,5mm kabelio;
- 500 m taktinio 5,5mm kabelio.
Tipiniam 5,5 mm skersmens taktiniam kabeliui yra naudojamas RBD-200 būgnas.Tuščio būgno svoris-9,7kg.
Tipniam 5,5mm 500m taktiniam kabeliui naudojamas RBD-500 būgnas.Tuščio būgno svoris-10,7kg.
Konstrukcija gali būti nudažyta miltelinio dažymo technologija:
-Juoda spalva RAL 9005;
-Tamsiai žalia khaki matine spalva RAL 6014
RBD-200 ir RBD-500 matmenys

3.Nešiojama dviguba ritė ant nugaros SFD02.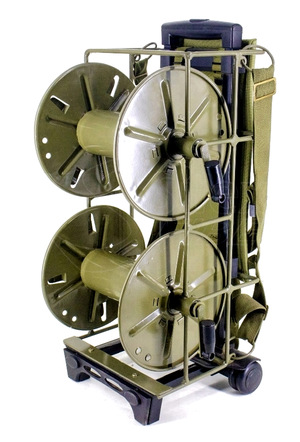 Dviejų ričių kabelinė konstrukcija pagaminta iš metalo. ir yra skirta šviesolaidinio kabelio suvynuijimui.Ši taktinė SFD02 dviguba ritė, skirta intensyviam ir profesionaliam naudojimui.
Visų pirma, ši profesionali taktinė ritė yra pagaminta iš atsparių ir ypač stiprių smūginių medžiagų. Intensyviam naudojimui kabelio ritėje yra sulankstoma rankena ir būgno stabdiss, kad būtų išvengta nepageidaujamo atsukimo.
Be to ji turi stabilią kuprinių tipo konstrukciją pagamintą iš patvarios medžiagos.Rėmas pagamintas iš lakštinio metalo,o būgnas pagamintas iš legiruoto metalo ir tsparaus smūgiams metalo lydinio.Tai leidžia pasiekti aukštą naudojimo stabilumą esant didelėms kabelių talpoms.
Priekinėje dalyje yra įrengta išorinė kabelio ritė, leidžianti lengvai suvynioti naudojamą kabelį.
Naudojant kokybišką ir atsparų mechaniniams poveikiams kabelį,bei patikimas jungtis pagal užsakymą, ši ritė tampa puikiu įrenginiu perduodant aukščiausią raišką ar duomenų srautą.Taip pat ji pasižymi tvirtumu ir ilgaamžiškumu.
Pagrindinės charakteristikos:
1.     Ergonomiška konstrukcija lengvai transportuojama;
2.     Didelė talpa pagal kabelio tipą;
3.     Stipri  ir tvirta;
4.     Maksimali šviesolaidino kabelio apsauga;
5.    Talpa 160-1600m,priklausomai nuo kabelio diametro;
6.    Pakuotės gabaritai290*370*640;
7.    Gabaritai:281mm*344mm*615mm;
8.     Svoris: 7,12kg supakuotos ir 6,2kg išpakuotos;
9.     Galimos šviesolaidinės jungtys:LC,FC,SC (pagal užsakymą);
         Kabelio talpa pagal diametrą:
         3mm-1800m     4mm-1000m     5mm-600m      6mm-450m     7mm-320m     8mm-250m      9mm-200m 
4.Nešiojamų ant nugaros ričių galerija