MIKROSKOPAI
Fiber inspection microscope
Šviesolaidinių jungčių tikrinimui naudojami optiniai mikroskopai (didinimas 350-400 kartų).
Pastėbėti nešvarumai nuvalomi su spiritu ar suspaustu oru.
1.Senko Smart Probe Wi-Fi mikroskopas.
2.Mikroskopas GM-60.ZN Kodas 560729   
    Fiber optic microscope 200 with ST/SC/FC adaptor.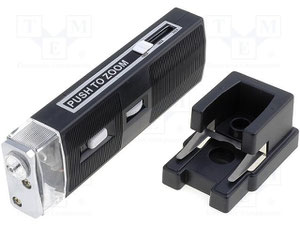 Modelis:GM-60;
Didinimas-iki 200 kartų;
Adapterio tipas: ST/SC/FC;
Gamintojas:Goldtools;
Tipas:Rankinis mikroskopas;
Didina: X160.x180.x200;
Svoris:100gr;
Maitinimas:2 baterijos 1,5V LR6 (AA);
Gabaritai:155 x 49 x 25mm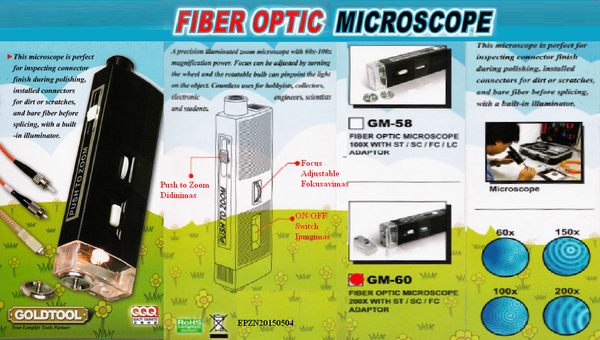 3.Rankinis  optikos testavimo mikroskopas STS824.ZN Kodas
   Hand-held Inspection Probe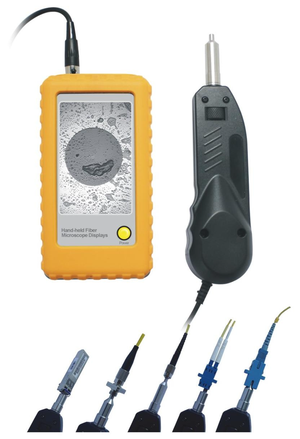 Brief Introduction
This product is a portable video microscope used to inspect all kinds of fiber optic
terminations, especially for the female ones. It eliminates the need to access the backside
of patch panels or disassemble hardware devices prior to inspection.
Features:
  - Convenient using both for male and female adapters;
  - Widely used in DWDM, SDH, SONET etc.
  - Magnification: 250* via 3.5''220,000 pixels TFT LCD;
  - Available for USB 2.0 interface on PC and data saving.
Specifications
  -Magnification 250x (3.5'' Monitor)
  -Resolution Ratio 0.5 um
  -Display Screen 3.5'' TFT-LCD, 960x240 pixels
  -Video Output NTSC / PAL
Other Parts
  -Power Supply 3.7V 4500mA / 5V 1A Li
Battery
Weight 1.5kg
Work/Storage -20℃~+50℃-30℃~+60℃ Applications
Tips Type Function Description
25-U-M FC/SC/ST/E2000 patch cord UPC connector
125-U-M LC/MU patch cord UPC termination
25-A-M FC/SC/ST/E2000 patch cord APC connector
125-A-M LC/MU patch cord APC termination
25-U-F FC/SC/ST/E2000 UPC bulkhead
LC-U-F LC UPC bulkhead
SC-A-F SC APC bulkhead
FC-A-F FC APC bulkhead
LC-A-F LC APC bulkhead.